Prst u oko (vožnja građana u novom opštinskom autu)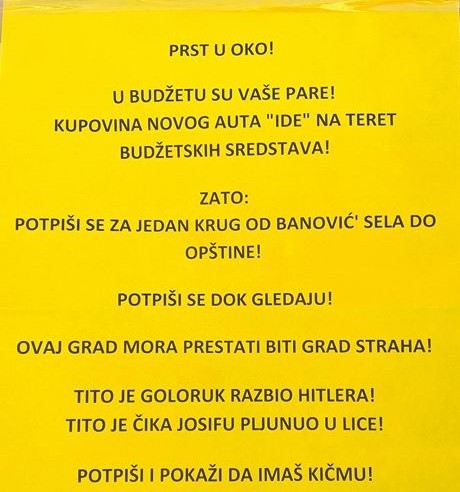 Opština Banovići,
načelniku Midhatu Husiću
Inicijativa DF-a Banovići za vožnju u novom opštinskom autu
Opština Banovići je raspisala tender za kupovinu novog službenog auta u vrijednosti od 80.000 KM i rok je istekao 09.05. Kupovina novog auta je došla u trenutku kad SDA ima apsolutnu većinu u opštinskom vijeću, te načelnika iz svojih redova, a broj nezaposlenih građana na birou za zapošljavanje je blizu 5000. Svjedoci smo da su primarne potrebe građana u drugom planu, a megalomanija i bahatost su odlike cjelokupne vlasti u BiH. Banovići su specifični. Zbog gotovo nikakve političke alternative, a pogotovo zbog straha i jednoumlja, mi iz DF-a Banovići smo prinuđeni ovim putem reagovati i pozvati građane da se odazovu ovoj akciji i vide to "čudovište" autoindustrije vozeći se barem jedan krug od rodnog načelnikovog sela do zgrade opštine čime će u nedostatku ideja za poboljšanjem kvalitete života svih nas načelnik usrećiti građane na par minuta vozeći ih u najluksuznijem autu koje će "doći" na opštinu.
Stoga, mi smo za vožnju u novom opštinskom autu
-JER NAS VRIJEĐA VAŠA BAHATOST (kupujete skupo, a ne zovete na slatku)
- JER NAM SE SMIJETE U LICE (tako mnogo para za kupovinu auta, a broj nezaposlenih svakog dana raste)
-JER I MI TREBAMO MASAŽU (mi crnčimo za dž, a vi umorni, je l'!?)
-JER I MI ZNAMO ŠTA JE DOBRO (siromašni smo, ali nismo blesavi) i na kraju
-JER AUTO KUPUJETE NAŠIM PARAMA.
Potpišite ovu peticiju
By signing, I authorize Povjerenik OO DF-a Banovići, Modrić Mirnes dipl.pravnik to hand over my signature to those who have power on this issue.