TRAŽIMO OSTAVKE SVIH POLITIČARA U BIH
PETICIJU POKREĆEMO ZNAJUĆI DA ĆETE SE NASMIJATI NAŠEM POKUŠAJU DA OTJERAMO VAS, NERADNIKE I LOPOVE, MISLEĆI DA U VAŠOJ KRIMINALNOJ HOBOTNICI DRŽITE SVE POLUGE I DA OVA INICJATIVA ĆE KAO I SVE PRETHODNE BITI BEZUSPJEŠNA!
NAMA JE DOSTA VAŠEG NERADA!
HOĆEMO ŽIVOT VRIJEDAN ČOVJEKA!
NEĆEMO NACIONALISTE!
ŽELIMO DEMOKRATIJU!
Peticija će trajati od 26. februara do 26. aprila, nakon čega ćemo svi mi, potpisnici peticije, doći pred Vladu BiH i otićemo samo kad vi date ostavke!
PS:KAD POTPIŠETE PETICIJU MORATE JE AKTIVIRATI NA MAILU KOJI STE DODALI.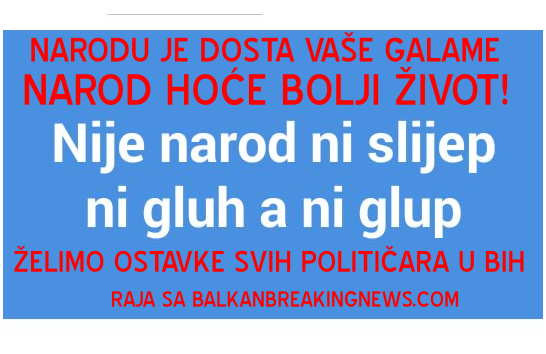 Potpišite ovu peticiju
By signing, I authorize RAJA SA BalkanBreakingNews Portala to hand over my signature to those who have power on this issue.