BBB2021NO: Build Back Better say No Bosnia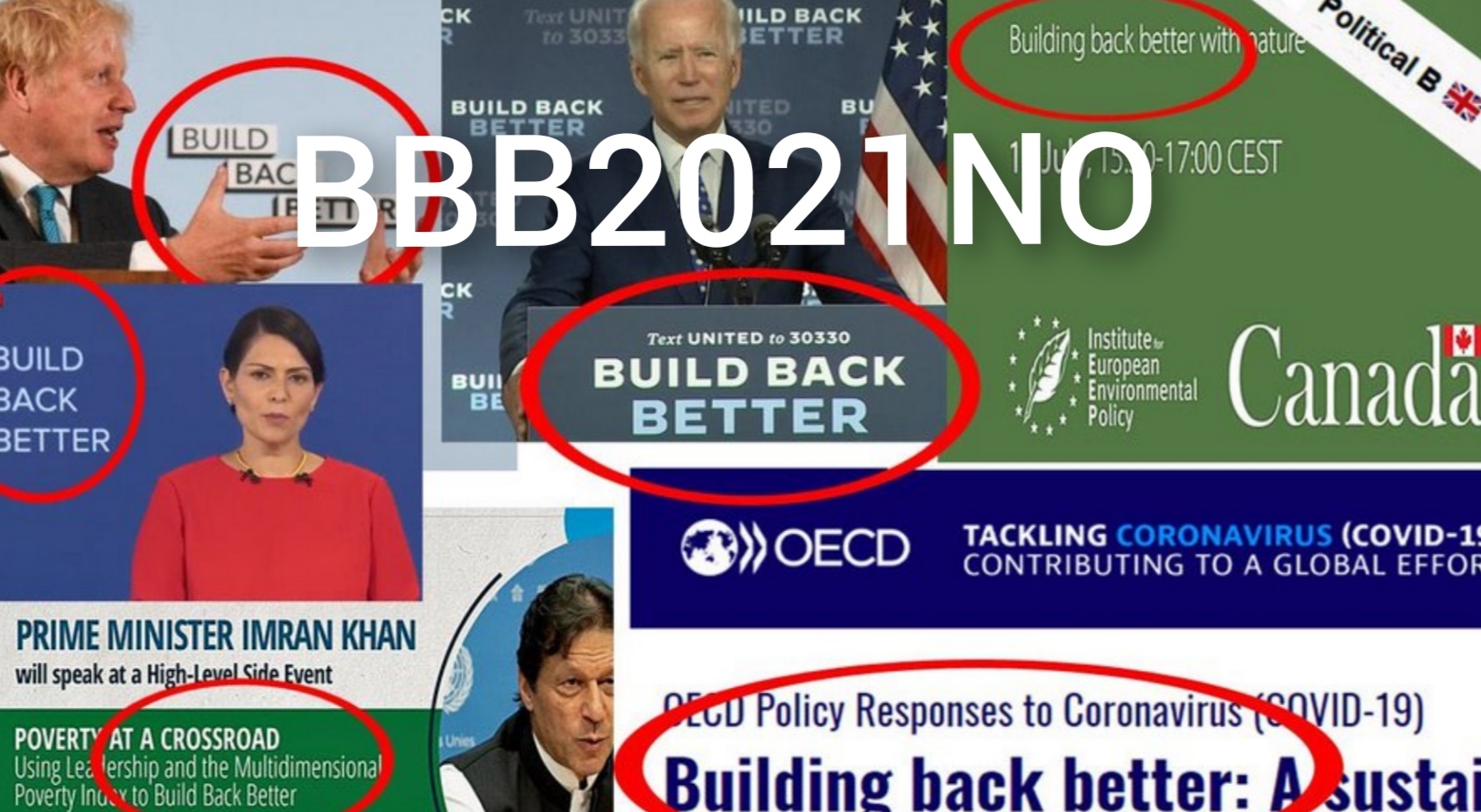 Izgradite bolje:
Jer otkud ovaj slogan tako iznenada? Zašto svi premijeri na svim vrstama međunarodnih sastanaka u inostranstvu govore o potrebi "Izgraditi bolje" i nikada ih nismo čuli za to u našoj zemlji? Šta oni podrazumijevaju pod Izgraditi bolje? I zašto ovaj slogan nikada nije bio dio javne rasprave u svakoj zemlji?
Rasprava o ovome više je nego potrebna jer su naši predstavnici odgovorni samo nama, suverenoj populaciji, a ne svim vrstama međunarodnih organizacija, globalističkih institucija i multinacionalki.
Zbog toga tražimo jasan odgovor stanovništvu po zemlji, što primorava vladu da odgovori na gornja pitanja. Kako? Izričitim traženjem od vlade da se distancira od inicijative za veliko resetiranje Svjetskog ekonomskog foruma i zahtijevanjem da od sada naša vlada prvo sa državom razgovara o inicijativama i planovima koji imaju veliki utjecaj na naše društvo (poput Izgraditi bolje). prije međunarodne komunikacije. Jer tako bi trebalo biti u pristojnoj demokratiji!
Nadamo se da ćete svoju porodicu, prijatelje i poznanike upoznati sa inicijativom naših građana!
Build back better:
Because where does this slogan come from so suddenly? Why do all prime ministers speak at all kinds of international meetings abroad about the need to 'Build Back Better' and have we never heard them about this in our country? What do they mean by Build Back Better? And why has this slogan never been part of the public debate in every country?
A debate on this is more than necessary because our representatives are only accountable to us, the sovereign population, and not to all kinds of international organizations, globalist institutions and multinationals.
That is why we demand a clear answer to the population per country, which forces the government to answer the above questions. How? By explicitly asking the government to distance itself from the Great Reset Initiative of the World Economic Forum and by demanding that from now on our government discusses initiatives and plans that have a major impact on our society (such as Build Back Better) first with the country before communicating internationally. Because that's how it should be in a decent democracy!
We hope you will draw your family, friends and acquaintances aware of our citizens' initiative!