PETICIJA - Spasimo Hajduk od Zdravka Reica
Spasimo Hajduk od Zdravka Reića
  Peticija za dragog gospodina Zdravka, ne onog iz Dinama već za "novinara" iz našeg podneblja koji je donio toliko negativnosti, gnjeva i neistine u vezi Kluba. Peticija za g. Reića koji je radio neutemeljene euforije i preuveličavao ih prije  drugih, ali isto tako brže-bolje pokopavao nas dan poslije, ne posipajući sebe pepelom već upirući prstom u Upravu, igrače, navijače pa i na kraju projekt Naš Hajduk. Peticija protiv gospodina koji je pisao neprovjerene i neutemeljene informacije koje nikad nisu bile službeno potvrđene. Stoga, gospodine Reić, dosta je, ostavite se Hajduka a svoje znanje, iskustvo i vještinu preusmjerite u neke druge kolumne nevezane za Hajduk.
Zdravko Reić: Mamić je Dinamova prednost i što god mislili o njemu zaslužuje naklon. [SD]
Zdravko Reić: Projekt 'naša dica' je utopija
[objavljeno: 04.02.2016.SD]
Zdravko Reić: PONOS CIJELOG SPLITA I HRVATSKE 'Nađite u Europi momčad koja ima toliko mladih igrača!'
[objavljeno: 22.07.2015. JUTARNJI]
ZDRAVKO REIĆ O TOTALNOJ RASPRODAJI U HAJDUKU 'Ovo je mizerno i nedostojno reputacije Bijelih!'
[objavljeno: 31.08.2015. JUTARNJI]
Zdravko Reić: Welcome, Mr. Glover & comp!
[objavljeno: 01.07.2013. SD]
Zdravko Reić: Je li pripadnici Torcide žive u uvjerenju da su važniji od kluba?
[objavljeno: 09.03.2015. SD]
Zdravko Reić: Svaguša je rođeni lider i ne trpi nestručnost
[objavljeno: 14.03.2010. SD]
POZADINA HAJDUKOVOG 'TRANSFERA STOLJEĆA' Počeli su pregovori iza leđa, na meti su roditelji 'mladog Maestra!?
[objavljeno: 10.06.2015. JUTARNJI]
POLJUDOM SE ŠIRI 'SULUDA PRIČA' Trener koji vodi Hajduk u Europu neće dočekati Veliku Gospu!?
[objavljeno: 10.08.2015. JUTARNJI]
Hajduk najavio tužbu protiv poznatog splitskog novinara
[objavljeno: 31.8.2015 TPORTAL]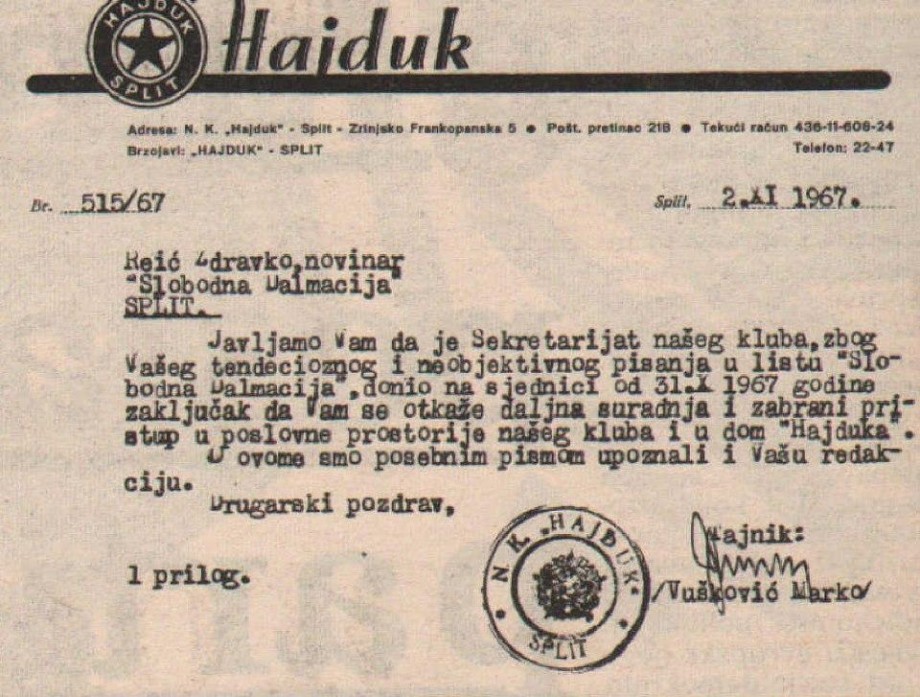 Nadamo se da ćete potpisati te dalje proslijediti ovu peticiju.
HAJDUK ŽIVI VJEČNO
Potpišite ovu peticiju
By signing, I authorize Ivan to hand over my signature to those who have power on this issue.