Podrška Komandantu Srebrenice Naseru Oriću
Povodom hapšenja i kao vid nezadovoljstva ophođenjem prema komandantu Srebrenice i brigadiru Armije BiH Naseru Oriću, Asocijacija mladih SDA je pokrenula ovu online peticiju podrške.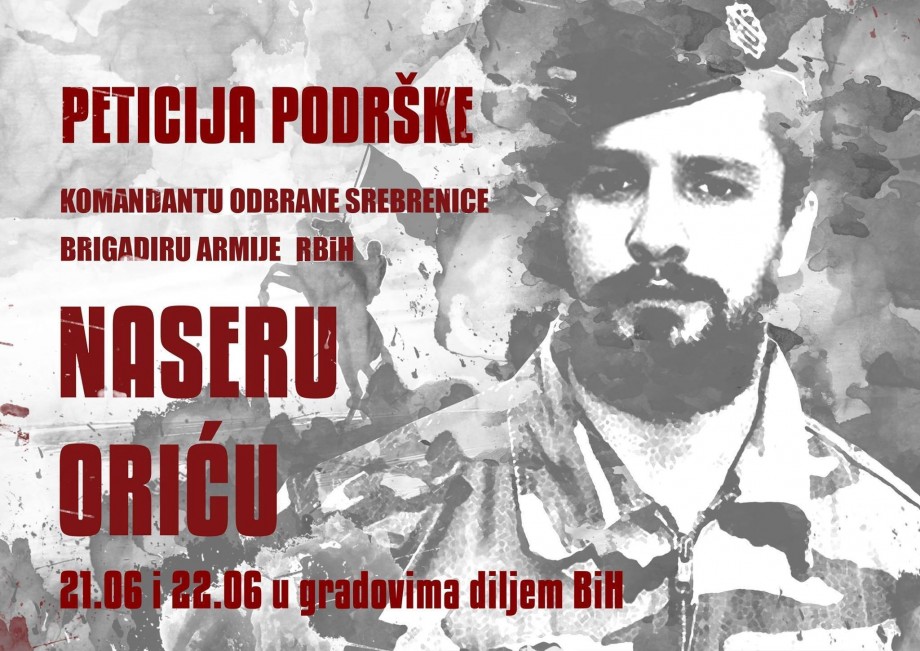 Potpišite ovu peticiju
By signing, I authorize AM SDA BiH to hand over my signature to those who have power on this issue.
30 dana
Sve vrijeme
Ime peticije
Napravljena
792
794
Raspisivanje 2.roka na Opštem studiju medicine u Tuzli (Zatvoreno)

Ovom peticijom tražimo raspisivanje 2.roka na studiju opšte medicine u Tuzli,jer smatramo da ovoj državi treba još mladih ljekara koji mogu dosta toga doprinjeti u polju medicine i nadamo se da veliki broj mladih neće dopustiti da krenu iz države radi boljih standarda i uvjeta za život,pored toga i upisivanje privatnih fakulteta. Mnogi su završili srednju medicinsku školu sa odličnim uspjehom,pri...

2019-09-03
517
518

Hitna smjena Saudina Sivre.

Zbog svojih homofobnih ispada praćenih vjerskom netrpeljivošću, mi roditelji čija djeca trenutno pohadjaju osnovnu školu u kantonu Sarajevo, mi koji ne djelimo primitivne, da ne kažem fašističke stavove Saudina Sivre, mi koji svoju djecu vaspitavamo da sve ljude cijene i poštuju podjednako, tražimo da se na njegovo mjesto postavi osoba visokih moralnih načela, koja neće širiti mržnju i netrpeljivo...

2019-09-07
298
298

Peticija za vraćanje naziva naselja Gornji Šeher u Banja Luci

Želimo da Skupština Grada Banja Luke jednom od najstarijih naselja u Banja Luci vrati njegov viševjekovni naziv-Gornji Šeher, naselju na obalama Vrbasa, koje je poznato po brojnim autohtonim kućama poznatih banjalučkih porodica, bogatom društvenom i privrednom životu u prošlosti, brojnim izvorima termalne vode, te najstarijem KUD-u u Banja Luci, KUD-u Budućnost....

2019-04-23
94
94

PETICIJA PROTIV LAŽIRANJA I PRISVAJANJA BH HISTORIJE OD STRANE HRT TELEVIZIJE

HRT televizija na svom programu (rubrika ''današnji dan-Kalendar'') objavljuje da je ban Kulin vladar hrvatskog porijekla i da je povelja bana Kulina pisana arvaticom i time učestvuje u lažiranju i prisvajanu historije Bosne i Hercegovine te se stavlja u isti koš sa fašističko-nacionalističkim ideologijama. Kulin ban je bosanski vladar i njegova povelja je pisana bosančicom, starobosanskim pismom....

2019-08-31
92
92

VRATIMO DUPLO NAPLAĆENA SREDSTVA I PREUSMJERIMO ZA RODITELJSKU KUĆU ZA DJECU OBOLJELU OD RAKA

Izdavanje ljekarskih uvjerenja za potrebe upisa djece u predškolski odgoj i osnovnu školu je usluga koja se pruža u okviru primarne zdravstvene zaštite i koja je finansirana od strane Zavoda zdravstvenog osiguranja TK po osnovu ugovora sa domovima zdravlja. Ipak pojedini domovi zdravlja na području TK, uključujući i Dom zdravlja GradaTuzla, su naplaćivali ovu uslugu od roditelja u iznosu od 8,00 K...

2019-09-09
37
450

Ne želimo koncert Gorana Bregovića u Sarajevu

Mi smo građani koji smatraju da Goran Bregović ne zaslužuje da održi koncert u Sarajevu. Smatramo da je kao umjetnik i javna ličnost izdao principe humanizma,  prećutno se priklonivši agresoru na Bosnu i Hercegovinu. Iako je proveo rat u Beogradu nijednu riječ nije izustio da osudi agresiju.  K tomu još priznaje da se sastajao s političkim vrhom velikosrpske ideje,  a danas javno hvali otvorene ne...

2019-08-13
23
23

STOP odlaganju nuklearnog otpada

Trgovska gora Ne želimo dozvoliti kraj turizmu i životu na ovim područjima, recite glasno NE. STOP odlaganju nuklearnog otpada uz rijeku UNU na Trgovskoj gori! Probudi se! Tiče se i tebe!      ...

2019-09-16
21
21

Peticija protiv zatvaranja SRC Ajdinovici

Povodom niza nemilih događaja kojima je za jedini cilj zatvaranje predivnog sportsko-rekreativnog kompleksa za djecu i odrasle, ovim putem vas zelimo zamoliti da date svoj doprinos u vidu potpisa i tako spasimo jos jedan BH dragulj od propadanja i spasimo radna mjesta. ...

2019-08-30
15
2 239

Peticija protiv Povorke ponosa !

Svrha peticije je da se utvrdi stvarni broj ljudi koji su protiv Povorke ponosa koja se treba održati 8. Septembra u Sarajevu. Ova peticija se upucuje vlastima u Kantonu Sarajevo koji trebaju postovati i uvazavati misljenja drugih ljudi koji su za njih glasali. Sto vise potpisa vece su sanse da povorku odgodimo. Komentarisite zasto ste protiv povorke i imajte slobodu iznijeti svoj stav i misljenje...

2019-04-02
13
261

STOP odlaganju nuklearnog otpada uz rijeku UNU na Trgovskoj gori! Probudi se!

  U skladu sa Strategijom i Nacrtom prijedloga programa sprovođenja strategije zbrinjavanja radioaktivnog otpada, istrošenih izvora i nuklearnog goriva Državni zavod za radiološku i nuklearnu sigurnost RH planira da u opštini Dvor na Uni, u kasarni Čerkezovac na Trgovskoj gori, skladišti najopasniji radioaktivni otpad iz NE "Krško". Radioaktivnost nuklearnog istrošenog goriva mnogostruko je veća o...

2016-03-08
Onlinepeticija.com
Mi pružamo besplatan prostor za online peticije. Napravite profesionalnu online peticiju koristeći naš močni servis. Naše peticije se svakodnevno spominju u medijima, stoga je kreiranje peticije odličan način da budete primjećeni kako u javnosti tako i kod donosioca odluka.