Podrška Komandantu Srebrenice Naseru Oriću
Povodom hapšenja i kao vid nezadovoljstva ophođenjem prema komandantu Srebrenice i brigadiru Armije BiH Naseru Oriću, Asocijacija mladih SDA je pokrenula ovu online peticiju podrške.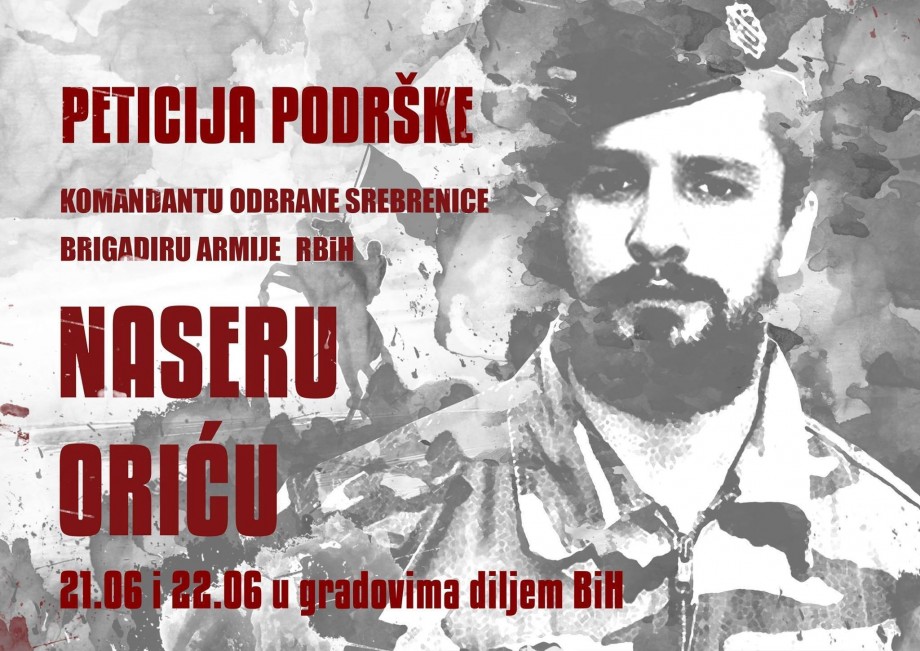 Najpopularnije peticije
30 dana
Sve vrijeme
Ime peticije
Napravljena
65
378

Zaustavimo zatvaranje naseg GIKIL-a!

Na inicijativu mnogobrojnih radnika GIKIL-a čiji se glas najmanje čuje, pokrenuta je ova peticija. Naš GIKIL je na korak do zatvaranja, a iz svih prethodnih dana naučili smo da imamo malo prijatelja. Oni koji trebaju da pomognu da se problem prevaziđe, preuzeli su ulogu i kadije i sudije. "Kadija te tuži, kadija ti sudi". Dokle ćemo tako? O sudbini GIKIL-a odlučuju oni koji nisu bili ni rođeni kad...

2018-08-16
6
354

Peticija protiv ubijanja pasa,macaka i ostalih zivotinja

Zaustavimo eutanazije životinja koje nemaju vlasnike.Donirajmo sve što možemo u azile kako bi životinje živjele svoj život u miru,a možda i u neko udomi psa ili mačku koje željno očekuju svoj novi dom.Pomozimo psima,mačkama i drugim životinjama.Od sveg srca Vam hvala što potpisujete peticiju i što donirate sve ono što možete azilima koji trebaju Vašu pomoć. S poštovanjem:  Goxi...

2011-05-24
4
12 998

UKIDANJE KANTONA U FBiH

Ukidanje kantona u FBiH, a njihove nadležnosti prenijeti na općine i jednim dijelom na Federaciju BiH. Time bi prije svega bile ostvarene milionske uštede i unaprijeđena funkcionalnost institucija. Brojni ministri, savjetnici, kantonalne skupštine, službe  ne bi više bili potrošači budžeta koji pune građani....

2013-06-01
4
131

Zatvorimo GIKIL, industriju koja truje okolis i ubija ljude

Zahtjevamo da se HITNO svi nivoi vlasti ukljuce u zatvaranje KHK GIKIL Lukavac, i da se nadje adekvatno rjesenje za radnike. Vrijeme je da se veliki zagadjivac konacno zatvori!!!...

2018-08-15
3
165

STOP odlaganju nuklearnog otpada uz rijeku UNU na Trgovskoj gori! Probudi se!

  U skladu sa Strategijom i Nacrtom prijedloga programa sprovođenja strategije zbrinjavanja radioaktivnog otpada, istrošenih izvora i nuklearnog goriva Državni zavod za radiološku i nuklearnu sigurnost RH planira da u opštini Dvor na Uni, u kasarni Čerkezovac na Trgovskoj gori, skladišti najopasniji radioaktivni otpad iz NE "Krško". Radioaktivnost nuklearnog istrošenog goriva mnogostruko je veća o...

2016-03-08
3
1 885

Usklađivanje plata političara sa prosječnom platom u FBiH

S obzirom na tešku prije svega ekonomsku, pa i političku situaciju, potrebna su nam nova rješenja da bi što prije sve ovo prevazišli. Svjedoci smo da i u ovim uslovima organi izvršne i zakonodavne vlasti donose različite odluke i povećavaju svoja novčana primanja, dok na drugoj strani imamo većinu građana koja ima minimalnu platu ili je nemaju nikako. Prema svim do sada urađenim analizama pokazalo...

2013-04-22
2
3 769

Zatvoriti odmah azil za pse u Prači

                                                                  TRAŽIMO OD NAČELNIKA OPĆINE PALE (F BIH)-PRAČA ASIMA ZECA DA ODMAH ZATVORI AZIL U PRAČI I TO ZBOG: 1. U azilu i oko azila se nalaze četiri masovne grobnice ( bez dozvole i nepropisnim ukopavanjem pasa) i u svakoj od njih se po informacijama radnika nalazi od 30 do 170 leševa pasa, kao i pojedinačne manje  grobnice od 1 do 5 pasa po...

2016-08-04
2
478

The petition in support of Ugo Vlaisavljevic, a victim of academic mobbing - Peticija za podrsku profesoru Ugi Vlaisavljevicu povodom mobinga koji se nad njim vrsi na Filozofskom fakultetu u Sarajevu

  Currently holding the position of full professor in the Department of Philosophy at the University of Sarajevo, Vlaisavljevic has been the target of a campaign of slander and harassment for years. After 30 years of his successful academic career at the same Department, he is now threatened with dismissal. The dismissal decision is expected in coming days, as an ad hoc disciplinary committee, ch...

2018-05-25
2
35

Zaustavimo nasilje putem Interneta i mobilne telefonije

Nasilje nad ženama, i nasilje općenito, sa razvojem tehnologija dobilo je svoj novi pojavni oblik koji karakteriše korištenje interneta za počinjenje djela, te korištenje različitih IKT (informaciono-komunikacionih tehnologija) kao sredstava izvršenja – IKT nasilje. Praksa pokazuje da čak i kada se nasilje putem IKT prepozna kao specifičan način vršenja psihičkog nasilja i dalje ostaje problem kri...

2017-11-27
2
225

Izgradnja Odbojkaskog terena na pijesku u Tuzli !!!

Zbog produzavanja plaze i ostalih projekata na Panonskim jezerima,2 terena odbojke na pijesku su srusena.Na tim terenima je organizovan jedan od najbrojnijih turnira u BiH Tuzla Beach Open,koji je brojao 32 muske i 12 zenskih ekipa.To su bili jedini tereni za igru na pijesku u Tuzli.S obzirom da je vecina mladih zeljna sporta,i da se vecina slozila i dokazala da Tuzla zivi odbojku i da nam treba j...

2018-07-31
Onlinepeticija.com
Mi pružamo besplatan prostor za online peticije. Napravite profesionalnu online peticiju koristeći naš močni servis. Naše peticije se svakodnevno spominju u medijima, stoga je kreiranje peticije odličan način da budete primjećeni kako u javnosti tako i kod donosioca odluka.