Zabranimo Vojislavu Šešelju ulazak na teritoriju BiH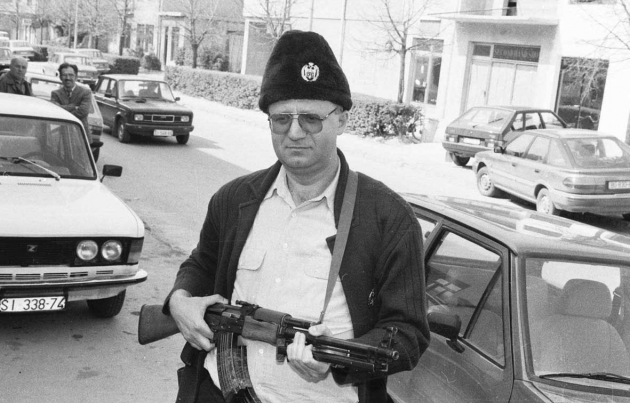 Potpišite ovu peticiju
Fill the form below to sign this petition created by Buljubašić Jasenko. The author of the petition will see all the information you provide on this form.
30 dana
Sve vrijeme
Ime peticije
Napravljena
1 698
1 704

Djecu treba liječiti iz budžeta, a političare plaćati SMS porukama, pa ko uplati-uplati

Podržavam inicijativu pod sloganom "Djecu treba liječiti iz budžeta, a političare plaćati SMS porukama, pa ko uplati-uplati. ...

2019-01-11
777
779

Vraćanje prava studentima FMTU-a

Ovom peticijom prije svega želimo vratiti mogućnost pisanja 2. i 3. roka iako nismo skupili 35% bodova. Također želja je ispravak kolokvija i ponovo bodovanje dolazak i aktivnosti. Smatramo da je jedna šasna za prolazak prerigorozna. Osim toga, i ako prođemo i ostvarimo pravo na završni ispit, svi zavrsni ispiti izredani su jednom tjednu....

2019-01-17
72
72

Trazimo odgovornost i kaznjavanje javnih licnosti za govor ponizavanja i sijanje mrznje!

Trazimo odgovornost i definisanje kazni za svaki govor mrznje, sijanje netrpeljivosti i ponizavanje drugog covjeka po svim osnovama: rasnoj, vjerskoj, nacionalnoj, osobama koje spadaju u bilo koju grupu, koja se razlikuje po fizickim, intelektualnim i drugim sposobnostima.   Trazimo krivicnu odgovornost za govor mrznje, ponizavanja i nipodastavanja djece/osoba sa poteskocama u javnom prostoru"...

2019-01-12
34
403

Zatvorimo sportske kladionice u BiH

...

2016-07-24
33
33

Građanski pokret za promjene

Poštovane/i,         Svjesni gotovo bezizlazne situacije u kojoj se Mostar nalazi, uglavnm nečinjenjem glavnih političkih protagonista u Gradu i Državi, mi članovi Socijaldemokratske partije BiH i Demokratske fronte Mostara, pozivamo sve građane, koji žele promjenu stanja u Mostaru, na formiranje širokog građanskog pokreta za promjene.       Poziv upućujemo svima onima, u Zemlji i inostranstvu, ko...

2018-12-21
12
87

Peticija za razrješenje dužnosti Upravnog odbora i svih Komisija SRS FBiH

Obzirom na jako losu situaciju u SRS FBiH, te radu istoga pokrenuta je peticija za smjenu svih upravnih tijela u SRS FBiH. Naime, zbog lošeg finamsijskog poslovanja, te lose organizacije kako saveza tako i onoga zbog cega savez i postoji a to su organizacija takmicenja, loseg sudzenja i odabir neadekvatnih sudija na takmicenjima, pokrenuta je peticija za smjenom kompletnog rukovodstva Federalnog...

2018-12-19
11
3 799

Zatvoriti odmah azil za pse u Prači

                                                                  TRAŽIMO OD NAČELNIKA OPĆINE PALE (F BIH)-PRAČA ASIMA ZECA DA ODMAH ZATVORI AZIL U PRAČI I TO ZBOG: 1. U azilu i oko azila se nalaze četiri masovne grobnice ( bez dozvole i nepropisnim ukopavanjem pasa) i u svakoj od njih se po informacijama radnika nalazi od 30 do 170 leševa pasa, kao i pojedinačne manje  grobnice od 1 do 5 pasa po...

2016-08-04
3
1 370

Stop finansiranju političkih stranaka iz budžeta!

Građanski savez   Kampanja #NeIzMogDzepa   Zakonom o finansiranju političkih stranaka propisano je da se političke stranke mogu finansirati iz budžeta Bosne i Hercegovine, entitetskih budžeta, kantonalnih budžeta i budžeta Brčko Distrikta, te budžeta drugih jedinica lokalne uprave i samouprave.   Prema podacima Centralne izborne komisije (CIK), izdvajanja iz budžeta svih nivoa vlasti u Bosni i He...

2016-06-06
3
917

ODUZIMANJE STATUSA POCASNOG GRADJANINA GRADA BIHACA BAKIRU IZETBEGOVICU

STATUS POCASNOG GRADJANINA GRADA BIHACA, dodjeljuje se istaknutim privrednim i privatnim osobama , Institucijama  koji su doprinijeli  boljitku i napredku drustva , grada boljim uslovima zivota i ugledu iste zajednice. Status pocasnog gradjanina  koji je dodijeljen  BAKIRU IZETBEGOVICU preko lokalnih  stranackih lidera SDA  i bez bilo kakvih gore navedenih zasluga smatra se dodvoravanjem istoj oso...

2016-02-24
3
293

ASuBiH - Inicijativa "I kopija vrijedi"

  Asocijacija srednjoškolaca u Bosni i Hercegovini (ASuBiH) ove godine pokreće inicijativu pod nazivom "I kopija vrijedi" u cilju poboljšavanja mogućnosti srednjoškolcima pri upisu na fakultete u našoj državi.  Veliki problem učenicima srednjih škola predstavlja nemogućnost predavanja dokumenata i apliciranje na više od jednog državnog fakulteta u isto vrijeme. Razlog ovome jeste što u Zakonu o ob...

2016-11-16
Onlinepeticija.com
Mi pružamo besplatan prostor za online peticije. Napravite profesionalnu online peticiju koristeći naš močni servis. Naše peticije se svakodnevno spominju u medijima, stoga je kreiranje peticije odličan način da budete primjećeni kako u javnosti tako i kod donosioca odluka.