Zahtjev za Visokog Predstavnika da se implementira elektronsko glasanje za lokalne izbore 2024
Zahtjevamo da se Visoki Predstavnik u Bosni I Hercegovini, Christian Schmidt, uključi i koristi svoja bonska ovlaštenja za implementaciju sistema elektronskog glasanja za 2024 lokalne izbore. Obzirom na to da je izborna prevara postala tako raširen događaj na izborima, to je izazvalo ozbiljne sumnje u legitimitet izabranih zvaničnika. To predstavlja manji odziv birača u posljednjih nekoliko godina i masovan egzodus građana koji napuštaju zemlju jer se ne osjećaju na ispravan način predstavljeni u institucijama. Do danas, ni jedan od glavnih političkih aktera u Bosni i Hercegovini nije pokazao veliki interes za implementaciju sistema elektronskog glasanja, vjerovatno iz straha od gubitka vlasti. Sistem elektronskog glasanja bi pomogao u ozbiljnom smanjenju izborne krađe stvaranjem digitalnog traga glasačkih listića koji bi pomogao u ponovnom prebrojavanju i reviziji. To bi omogućilo sigurne, efikasne i transparentne izbore u Bosni i Hercegovini. Upravo iz ovih razloga zahtijevamo od Visokog predstavnika da se uključi i da iskoristi svoja bonska ovlaštenja za implementaciju elektronskog glasanja prije predstojećih lokalni izbora 2024 godine, kako bi se zajamčili slobodni i pošteni izbori u Bosni i Hercegovini.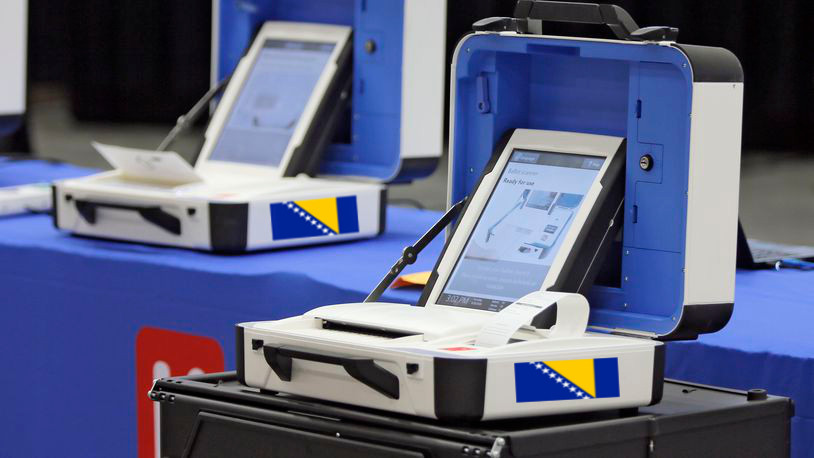 We are demanding that the High Representative for Bosnia and Herzegovina, Christian Schmidt, become involved and use his Bonn powers in order to implement a electronic voting system for the 2024 local elections. Since election fraud has become such a widespread occurrence in elections this has caused severe doubt in the legitimacy of elected officials. This has in turn meant lower voter turnout over the last years and a massive exodus of citizens leaving the country since they don't feel rightfully represented in institutions. To this date none of the major political actors in Bosnia and Herzegovina have shown much interest in implementing an electronic voting system possibly out of fear of losing power. An electronic voting system would help severely reduce voter theft by creating a digital trail of the voter ballots which would help in recounts and audits. This would make safe, efficient and transparent elections a possibility in Bosnia and Herzegovina. It is precisely for these reasons that we demand the High Representative to become involved and to use his Bonn Powers in order to implement electronic voting prior to the upcoming 2024 local elections in order to guarantee free and fair elections.