Zaustavimo nasilje putem Interneta i mobilne telefonije
Nasilje nad ženama, i nasilje općenito, sa razvojem tehnologija dobilo je svoj novi pojavni oblik koji karakteriše korištenje interneta za počinjenje djela, te korištenje različitih IKT (informaciono-komunikacionih tehnologija) kao sredstava izvršenja – IKT nasilje.
Praksa pokazuje da čak i kada se nasilje putem IKT prepozna kao specifičan način vršenja psihičkog nasilja i dalje ostaje problem krivičnog procesuiranja počinilaca IKT nasilja, zbog zakonskog okvira koji ne reguliše izričito ovaj način izvršenja nasilja.
Opasnosti od nasilja putem IKT doprinosi i sposobnost napadača da žrtvu zlostavlja 24 sata dnevno, te nemogućnost bijega za žrtvu - zbog sveprisutnosti različitih modaliteta i sredstava komunikacije.  
Zbog toga je Centar ženskih prava iz Zenice, nakon trogodišnjeg istraživačkog i konsultativnog rada, formirao ekspertnu radnu grupu. Rezultat zajedničkog rada je da je Centar 14.11.2017. godine podnio Inicijativu sa prijedlogom teksta Nacrta za izmjenu i dopunu Krivičnog zakona FBiH koji se tiče stvaranja zakonodavnog okvira za sankcionisanje osoba koje vrše krivična djela putem informaciono-komunikacionih tehnologija (više na linku: http://cenppz.org.ba/2017/11/14/predata-inicijativa-za-izmjene-i-dopune-krivicnog-zakona-fbih/).    
Pozivamo Vas da svojim potpisom podržite ovu Inicijativu.
Ako nije vidljivo ne znači da nije stvarno – trebam/tražim zaštitu od nasilja putem Interneta i mobilne telefonije!!!
#bezicnonevidljivoabolno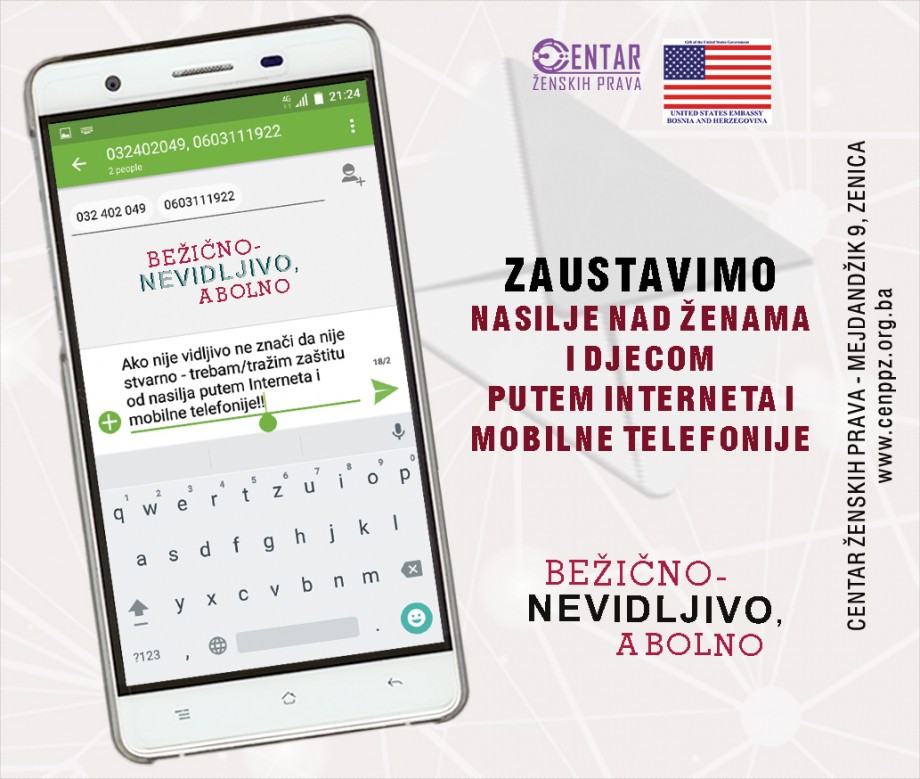 Potpišite ovu peticiju
By signing, I authorize Centar ženskih prava, Zenica to hand over my signature to those who have power on this issue.